Laser Therapy In Okemos MI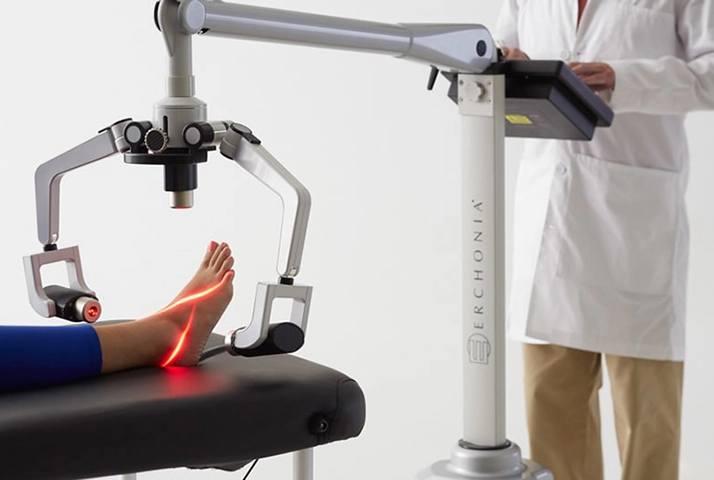 For over 40 years, Low Level Lasers have been researched and proven effective at reducing pain, inflammation and edema in Okemos MI, while promoting the healing of superficial wounds, deeper tissues and nerves, and preventing cell death. Since 1967, over 100 phase III, randomized, double-blind, placebo-controlled clinical trials (the gold standard) have been published and are supported by over 1000 laboratory studies.
Lasers (LLLT) have successfully treated pathologies as diverse as osteoarthritis, tendonopathies, wounds, back pain, neck pain, muscle fatigue, peripheral nerve injuries, traumatic brain injuries, Alzheimer's, and stroke.
In 2002, U.S. laser manufacturer Erchonia received the first FDA market clearance (PL5 laser) for low level laser treatment of Neck and Shoulder pain. In 2014, FDA clearance was received for Plantar Fasciitis/heel pain (FX 635). Presently over 2000 published studies on LLLT have revealed zero negative side effects. Visit www.Erchonia.com for in-depth research.
---
Conditions and Symptoms That Respond to Low Level Laser Therapy in Okemos MI:
Plantar Fasciitis Heel Pain
Neck and Back Pain
Shoulder Pain
Headaches and Migraines
Disc pain and Sciatica
Carpal Tunnel
Scars and Scar Tissue
Sports Injuries
Wound Healing
Achilles Tendonitits
Acute and Chronic Pain
---
"How does low level laser work?"
Low Level Laser Therapy (LLLT) reduces pain and inflammation, while stimulating tissues to heal faster. Human cells produce a chemical known as ATP (adenosine tri-phosphate) to power the body. It's like gasoline for a car. LLLT stimulates the cell's mitochondria (nicknamed the "powerhouse" because it produces ATP) to step up production of ATP. With more ATP available, tissues heal faster and relief comes quicker. Usually, you will notice health benefits in addition to what you are being treated for. Because ATP and other chemicals being produced are "systemic", they circulate throughout the body. Experimental mice with both paws burned had fastest healing on the lasered paw, but their untreated paws also healed faster than the paws of the non-lasered control mice.
The results we are seeing have been nothing short of amazing.
Call Zuker Chiropractic to schedule your laser treatment today!
OFFICE HOURS
---
Monday
9:00am - 12:00pm
3:00pm - 6:00pm
---
Tuesday
9:00am - 12:00pm
3:00pm - 6:00pm
---
Wednesday
9:00am - 12:00pm
3:00pm - 6:00pm
---
Thursday
9:00am - 12:00pm
3:00pm - 6:00pm
---
Friday
Closed
---
Saturday & Sunday
Closed